The National Capital Region's thriving metropolis of Noida is a fusion of many different cultures and cuisines. One cannot avoid the pull of a good, healthy Thali when exploring the world of food. And if you're looking for the "Best Pure Veg Thali in Noida," look no further than Bansooriwala's.
Due to its mouthwatering products, Bansooriwala's, a well-known sweet brand having locations in both Delhi and Noida, has gained a devoted following. The Best Pure Veg Thali in Noida stands out as a shining gem among its extensive menu.
What distinguishes Noida's Bansooriwala's Thali as the best? Let's start now.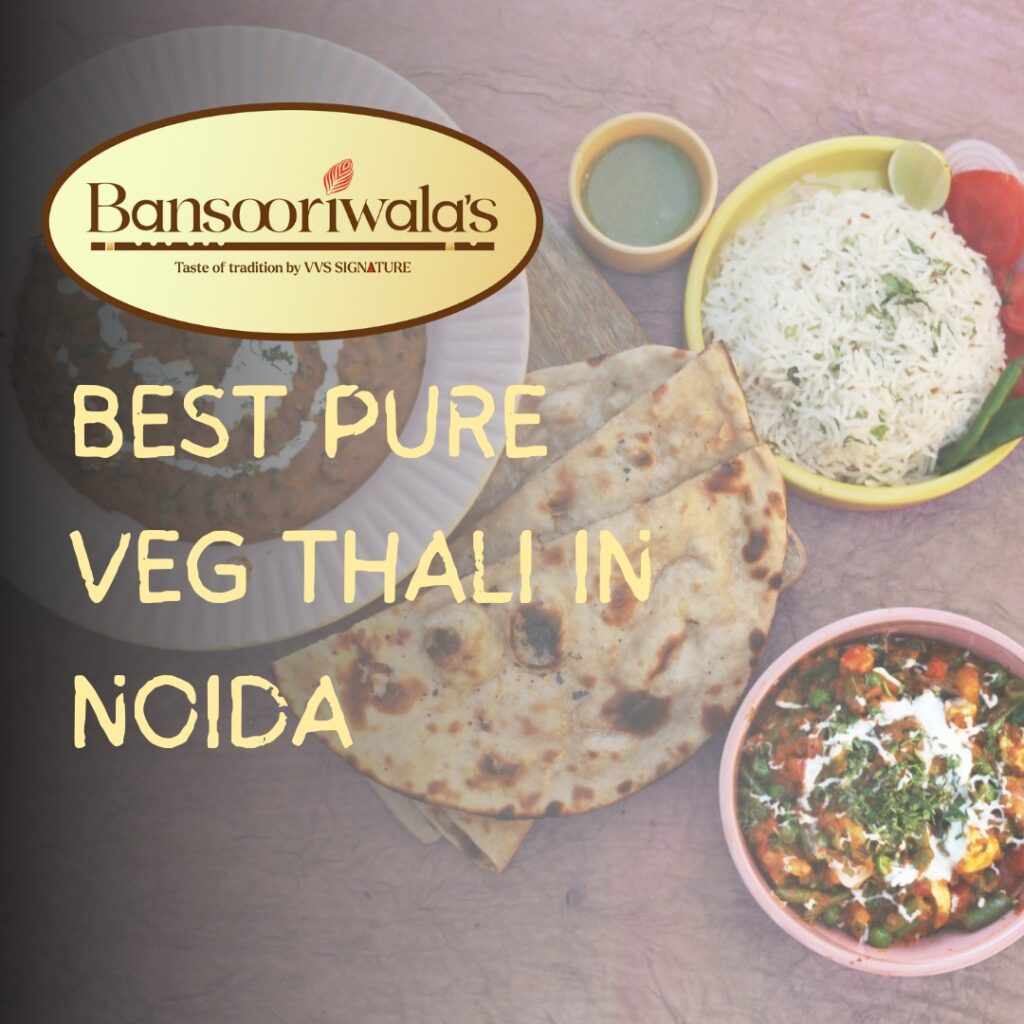 A Gastronomic Adventure:
It is impossible to describe Bansooriwala's Best Pure Veg Thali in Noida as anything less than a culinary tour across central India. On a single platter, this delicious buffet presents the best tastes from many parts of the nation.
An orchestra of flavors:
You are met by a kaleidoscope of hues and scents the moment you set eyes on the Thali. Your taste buds will be dancing with delight as a result of the symphony of flavors, textures, and sensations. The Thali's components are all expertly and painstakingly made.
A Variety of Foods:
The meals at Bansooriwala's Thali are diverse and include savory sabzis, crispy pakoras, fluffy naans, and fragrant biryanis. It's a lavish celebration of the variety of Indian cuisine. With each bite, the phrase "Best Pure Veg Thali in Noida" actually comes to life.
The Sweet Conclusion:
Bansooriwala's makes sure that your meal ends on a pleasant note because they are a sweet brand. Their desserts are legendary, and as the ideal way to round off your Thali experience, they always include a mouthwatering sweet treat.
Homely atmosphere:
In addition to the mouthwatering food, Bansooriwala's cozy atmosphere enhances the whole dining experience. The fact that you may eat there in solitude and comfort makes it even more deserving of the moniker "Best Pure Veg Thali in Noida."
Customer contentment
The numerous positive testimonials from delighted customers confirm to the quality and authenticity of Bansooriwala's Thali. The phrase "Best Pure Veg Thali in Noida" is more than just a boast; it's a sign of their dedication to providing a top-notch dining experience.
Conclusion:
Finally, I would like to say that if you're looking for the "Best Pure Veg Thali in Noida," you should head straight to Bansooriwala's. With its wide variety of delicious and reasonably priced options, this culinary jewel not only lives up to its name but also beyond expectations. It's an encounter that will have you yearning for more, making Bansooriwala's in Noida a must-see for foodies.
visit our  Facebook Page and website to understand our work in detail. Click on http://www.bansooriwala.com/ to know more about us.