Bansooriwala – the ultimate destination for customized sweet boxes. We have been providing customers with the best in quality traditional sweets made from pure desi ghee. Our variety of sweets are unmatched in Noida , and we provide an option to our customers to customize their sweet boxes with their favorite flavors. At Bansooriwala, you can easily customize your sweet box with an array of flavors. 
Variety of pure flavors
We offer classic Kaju Katli, Patisa, Kalakand as well as a variety of other popular sweets like Kaju Pan, Milk Cake and Motichur Laddoo. You can also choose from a selection of flavors like Kaju strawberry, Kaju Anjeer Roll and Kaju Gujiya to create a unique and delicious sweet box. We take extra care in preparing each sweet box. Our experienced and dedicated team ensures that the quality of our sweets is never compromised. We also take great pride in our commitment to delivering the freshest and most delicious sweets to our customers. At Bansooriwala, we understand the importance of quality and convenience. That's why we offer a convenient online ordering system for our customers. You can easily place your order online and we will take care of the rest. 
Made with Purity
Our store also offers custom sweet boxes that are tailored to your special occasions and needs. Whether you are looking for an elegant gift for a special occasion or just a treat for your family, Bansooriwala has the perfect sweet box for you. Our custom sweet boxes come in a variety of traditional yet modern designs. With a wide variety of sweets, you can create a unique gift or treat for any occasion. Whether it's a birthday, anniversary, or just a thank you, you can make your gift even more special with a customized sweet box. At Bansooriwala, you can be sure that you are getting the best quality sweets. All the ingredients used in the store are carefully sourced from best vendors and are made with pure desi ghee. This ensures that the sweets are both delicious and healthy.
Customized Sweet Boxes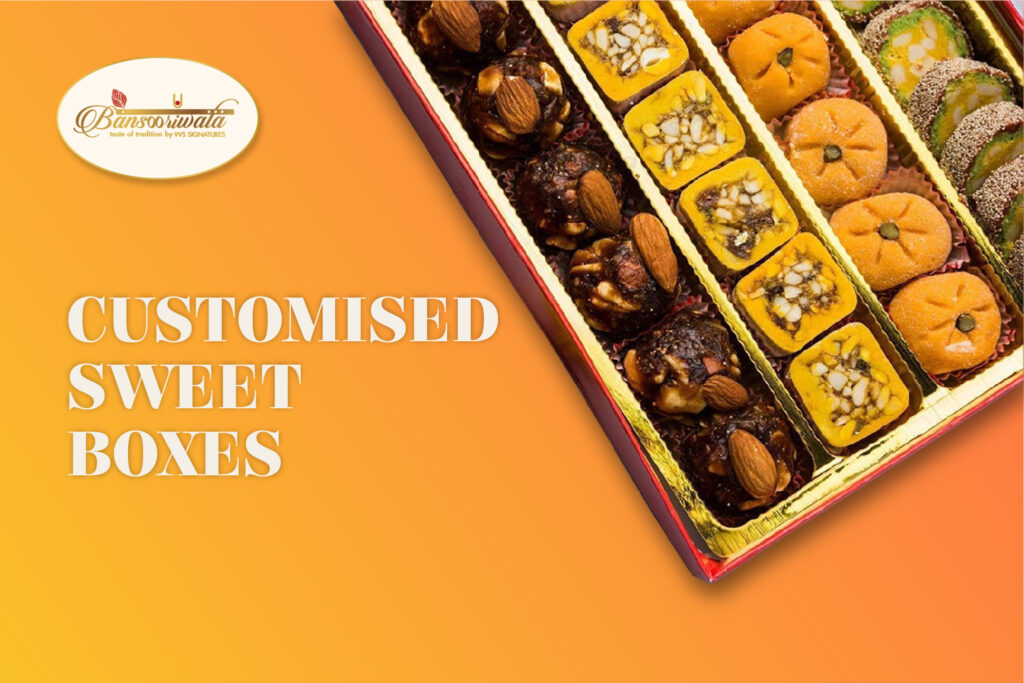 Delight for every occasion
For a special treat or a perfect gift for any occasion, visit Bansooriwala for an unforgettable experience. With their quality sweets and custom sweet boxes, you can be sure to make a lasting impression. Bansooriwala also offers delivery services for their products so that you don't have to worry about traveling to the store to purchase your sweet boxes. You can simply place your order online and have the sweets delivered directly to your doorstep. 
Order your customized sweet box today from Bansooriwala and enjoy the best in quality traditional sweets. We look forward to providing you with the perfect sweet box for your special occasions.
visit our website to understand our work in detail. Click on http://www.bansooriwala.com/ to know more about us.